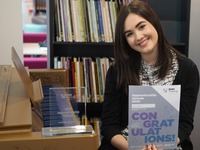 It's National Apprenticeship Week and Rotherham Council is encouraging people to check out the opportunities available to help move themselves and their career forward.
There are hundreds of opportunities available for people to learn, whether they're just starting out on the career ladder or have been working for some time.
Councillor Denise Lelliott, Cabinet Member for Jobs and the Local Economy, said: "Apprenticeships are a fantastic way for employers to recruit enthusiastic people with practical skills and relevant qualifications. The mixture of on and off the job learning ensures that apprentices get the best training and means organisations employ the best local talent."
"For apprentices, it is a great opportunity to get hands-on experience in your chosen career and then learn directly from experienced professionals."
There is no age limit to becoming an apprentice and you can stay in the same job on the same pay while learning.
Amy Hubbard was recently named RNN Training's Level 3 Apprentice of the Year after completing a Level 3 Business Administration Apprenticeship whilst employed by the Council's Rotherham Music Service.
Amy said an Apprenticeship is a great way to learn: "You're not just sat in a classroom you're learning the knowledge you need and then applying it to a business setting."=
"You are getting that business experience which is so valuable in this day and age. Seeing the fundamentals and how the business works day to day was really beneficial."
The Council is currently recruiting Business Administrator and Library Assistant Apprentices and expect to recruit people for a wider range of apprenticeships later in the year.
Anyone interested can search for the latest apprenticeships, or set up an alert, online.