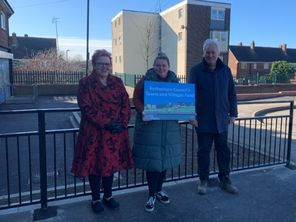 Thanks to investment from Rotherham Council's Towns and Villages Fund, the accessibility and appearance of the Broadway shopping area in Swinton has been improved.
Previously, this area was difficult to navigate with various sets of steps, ramps and uneven surfaces.

The walls and surfacing at the shopping area was dated and it was felt that the area needed a facelift.

Access to the site has been improved with new steps and ramps. The footways in front of the shops have also been extended, making it easier for shops to offer outdoor seating in the summer months. Alongside this, new surfacing has been installed.

A number of trees have been planted on the large green space at the site, improving the appearance of this well-used shopping area.

Extensive consultation was carried out with local residents and businesses, who told us that they would like to see CCTV in the area. Councillors listened to the feedback and used the Swinton Rockingham Ward budget to install new CCTV.

Councillor Gina Monk, Councillor for Swinton Rockingham Ward, said: "The work that has taken place supports our ward priority around improving the local environment.
"We are really pleased that we have been able to add more value to the scheme, using our ward budget to install new CCTV."

Councillor Ken Wyatt, Councillor for Swinton Rockingham Ward, added: "The Broadway shopping area was in need of improvement. This area is now more accessible with new walls, steps, ramps and surfacing. The work carried out will make it easier for local residents to use the shops.

"The Broadway shopping area is well-used and it is great news that these improvements have been delivered for local residents and businesses."
Councillor Sarah Allen, Cabinet Member for Neighbourhood Working, said: "We are working with our communities to deliver the changes that people want to see in their neighbourhoods through the Towns and Villages Fund.

"The investment from the Council has improved the Broadway shopping area, which is now a more accessible space and looks so much better."

The Towns and Villages Fund is a multi-million pound commitment from the Council to deliver improvements to local towns and villages across the borough.

You can find out more about the Towns and Villages Fund on the Rotherham Council website.