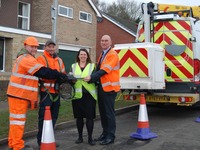 Cllr Emma Hoddinott installed the final LED street lamp as part of the programmed replacement project with help from Rotherham Council's Street Lighting team.
By changing to the LED Street Lamps, the Council will save the borough almost £1,000,000 every year on its energy bill.
The massive project to replace all the old street lamps with new, more environmentally friendly versions has finished as the last few units were installed on Moorfoot Road, Moorgate.
Energy efficient street lamps were introduced to Rotherham's main roads in 2013, replacing the old high burning lamps. Initially, 6,000 lamps were installed over a two and a half year period.
A fall in the cost of the units meant that the Council could roll out a further 30,000 lamps to all streets across Rotherham.
The last phase of lights were also made locally, by Rotherham based ASD Lighting, and each one was installed by the Council's in-house Street Lighting team which allowed the Council to bring down the costs of the project.
The new bulbs have a guaranteed life of at least 12 years which means that they will need to be replaced less often than the previous lamps. The upgrades have also seen a reduction in CO2 emissions of 63%!
The Council's Cabinet Member for Roads, Cllr Emma Hoddinott, said: "By changing over every street lamp in the borough, we will be able to save around £1,000,000 in energy costs every year, as they are more energy efficient. This is a huge saving and will allow us to put more resources into other areas.
"The Street Lighting team has been a familiar sight around Rotherham throughout the project. I want to thank them for the fantastic job they have done installing some 36,000 units, no matter the weather."