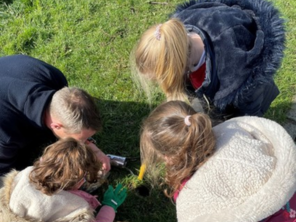 Brinsworth Beekeeper, Mel came along to the second Brinsworth Environmental Day hosted my ward councillors Adam and Charlotte Carter.
The event was a follow-on from last Autumn's Environmental Day and was themed around bees.
With help from Park Rangers, Woodland Officers, and Neighbourhoods staff, children from Brinsworth Primary schools and Brinsworth Academy were given the opportunity to see a real beehive and find out how bees make honey.
The children also helped to plant hundreds of bulbs on Bawtry Road alongside the daffodils that were planted last autumn. These bulbs will flower over the summer and encourage more bees and insects into the local area.
The children were given seed paper to take home and plant in their gardens and little pots of honey to sample. The teachers were given beebombs to plant in the school grounds to encourage lots more honey bees this year.
The project was funded through the Brinsworth Councillors Community Leadership Fund and supports the cleaner and greener ward priority for Brinsworth.
Working with you to help build communities that we can all take pride in is a priority for the Council. Find out about news and events in your area by signing up to receive 'News from your Neighbourhood' e-newsletters, by clicking here