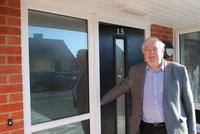 Rotherham Council's Cabinet is to consider proposals that would see adults with learning disabilities and their carers enjoying two brand new homes for respite care.
The four-bedroom, detached houses, part of a new council development at Conway Crescent, East Herringthorpe, would replace our current two much older properties at Maltby and Wath which are not fully accessible.
The decision to develop a new offer to replace our current provision and identify alternative ways of delivering care and support in the local community was made by the Cabinet nine months ago.
With lifts in both houses, one house fitted with ceiling hoists and the other providing an autism-friendly environment, the new homes would make Council-run respite care available to people with a wider range of needs, if Cabinet gives the go ahead on Monday 17 February.
Rotherham Council Cabinet member for Adult Social Care Cllr David Roche said: "The new houses at Conway Crescent will bring the Council's respite service right up to date with brand new facilities equipped to serve a wider range of people's needs. Our current in-house respite facilities are not fully accessible which means we cannot provide a service to meet peoples' range of complex needs.
"In supporting this proposal I know we will be offering the very best service to some of the borough's more vulnerable people and their carers. Our carers are there for their loved ones 24 hours a day, seven days a week. This new respite service will give more opportunities for carers caring for people with a range of needs much needed short breaks in order to carry on their very important caring roles."
The proposed changes to respite care are part of the Council's wider plan to transform services for adults with learning disabilities, providing increased choice and opportunities for greater independence through the My Front Door programme.