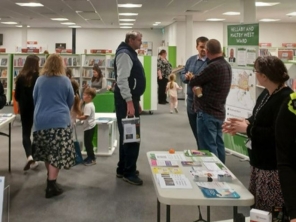 A Maltby wellbeing event took place on Saturday 1st April. 
This provided another opportunity for residents to find out more about wellbeing support. It was also an opportunity to find out about events taking place in the local area.
Hellaby and Maltby West Ward Councillors (Councillors Ball and Andrews) and Maltby East Ward Councillors (Councillors Tinsley and Hunter) were present to support residents with any queries.
Rotherham Federation of Communities (RotherFed) attended, who offer a free service to Rotherham residents who are looking for advice, support and guidance regarding their personal finances. Rotherfed have supported Maltby Foodbank, as well as groups and individuals within the Maltby and Hellaby area for many years. At the event, Rotherfed gave advice ranging from good shopping practice to helping people understand and reduce their energy bills.
Adult Social Connector, Tracey White, also joined us and was giving out booklets with information on community groups and services within the area for residents to enjoy new activities and meet friends.
Tesco Community Connector, Julia Jones, brought along lots of inspiration for family meal times and money saving ideas. Along with information about the local charities and organisations they support with their Tesco Community Grant scheme.
Officers from Rotherham South Police supported Maltby and Hellaby residents by handing out free home security devices and useful advice on how to protect your home.
Working with you to help build communities that we can all take pride in is a priority for the Council. Find out about news and events in your area by signing up to receive 'News from your Neighbourhood' e-newsletters, by clicking here.