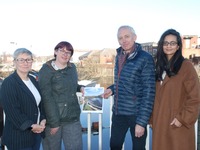 The culmination of 20 years hard work starts at Masbrough Weir in Rotherham town centre to help salmon back to the river which they haven't been able to call home in over 200 years.
Since 2000, many organisations have been working together towards re-introducing salmon to the River Don. Migrating fish disappeared because of the dozens of weirs that were installed into the river to power mills and factories over the centuries, and the resulting pollution from the industrial revolution.
Over two decades 'fish passes' have been built on weirs on the Don between Doncaster and Sheffield to enable salmon to freely swim up the river. Now, a multi-partner project has come together to build the last fish pass needed on the Don, to enable fish to return back to their spawning grounds.
Masbrough Weir is a significant obstacle for fish migrating up the river Don.
Explaining why is it so important for a fish pass to be constructed at Masbrough, Anthony Downing the Environment Agency catchment coordinator for the Don and Rother said: "Opening up the route will help re-establish a spawning population. Adult salmon do not feed when they enter rivers from the sea and so have only the energy reserves stored in their body to propel them upstream and enable them to spawn successfully. Salmon only leap when they have to and prefer to swim past obstructions when they have the option. Leaping risks injury and many attempts are often needed which 'drains the fish's batteries' before they reach their spawning grounds so building efficient fish passes as at Masbrough greatly increases the probability of breeding success."
The project has been a collaborative effort between the owners of the weir (Canal & Rivers Trust), Don Catchment Rivers Trust, the Environment Agency, Rotherham Metropolitan Borough Council, and Yorkshire Water.
Sean McGinley, director Yorkshire & North East for Canal & River Trust explained: "Our thanks to Don Catchment Rivers Trust for their efforts in coordinating this project. It's fantastic to see this coming together and to realise the regeneration of the River Don as an accessible nature corridor, a place where people can enjoy spending time outdoors, relaxing by water, and, with a bit of luck spotting an otter, salmon or kingfisher."
Speaking about the partnership Ben Gillespie, Technical Specialist (River Resilience) from Yorkshire Water said: "Yorkshire Water is proud to support this project which will help to reinvigorate the environment of the River Don. We've been working with the Don Catchment Rivers Trust to improve the River Don for many years, and it's fantastic to now fully connect up the river from sea to Sheffield! We're hoping to see an improved river environment, and knock on societal benefits, with people understanding and valuing their local river more than ever before."
In 2019, there were reports of salmon having made it up river – exciting and rewarding news for everyone with an interest not just in fish, but in the natural environment.
Ed Shaw, Director at Don Catchment Rivers Trust commented: "The Trust is very proud to be working on this last piece of the jigsaw. We ourselves started building fish passes on the Don six years ago. Since then there have been reports of salmon in the river, and there is now much more public awareness of the importance of having a healthy river – this project is as much for our local communities as it is salmon."
The fish pass is due to be finished this May, and the partnership is delighted that it can now be a feature in the upcoming wider development of Forge Island in Rotherham town centre.
Councillor Denise Lelliott, Cabinet Member for Jobs & the Local Economy, said: "This is an exciting project that we are proud to be a part of. The new fish pass on the weir will help play a part in bringing Forge Island back to life and prove to be an attraction for visitors and residents in the area for years to come.
"It's also a great example of different partners working together and is another important step in the regeneration of the town centre which includes improvements to the river, three new town centre housing developments and the leisure development at Forge Island."