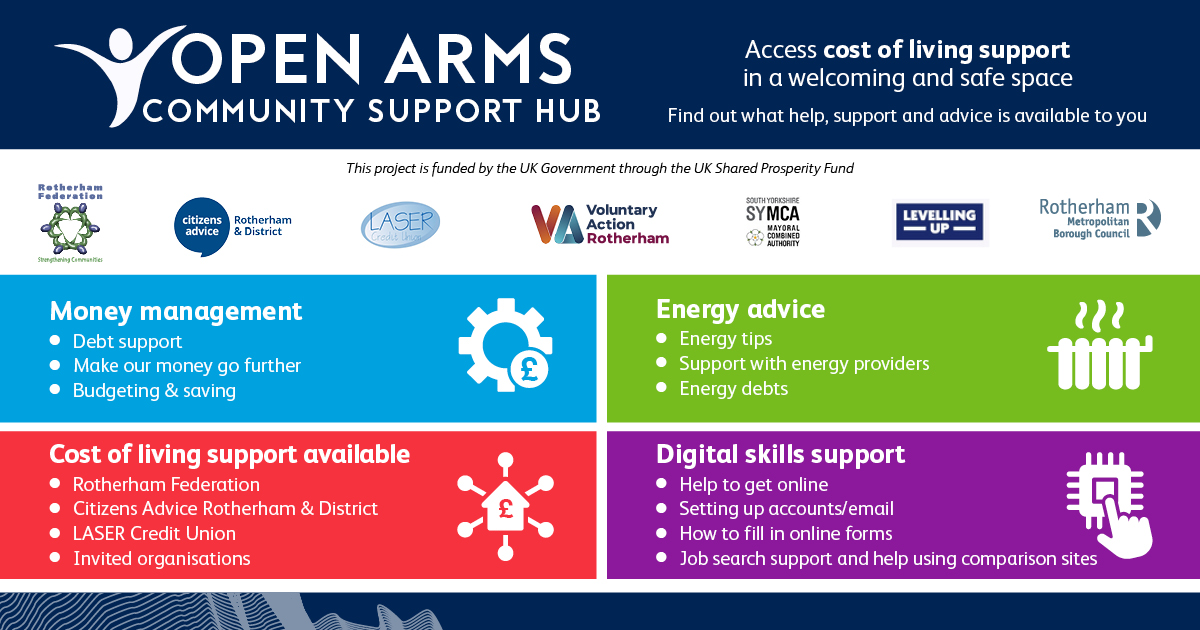 Rotherham residents can now access cost of living support at locations right across the borough after Rotherham Council funded a new initiative through its UK Shared Prosperity Fund allocation.
Rotherham Council, RotherFed, Citizens Advice Rotherham, LASER Credit Union, and Voluntary Action Rotherham have partnered to develop a programme of support to communities most affected by the cost of living crisis, known as Open Arms.
A range of organisations are providing information and advice at hubs in ten different locations across the Borough. Each hub will have a drop-in session throughout the day every fortnight for local people who need support.
At the drop-in sessions residents can also access money management and energy advice, as well as digital skills support.
The areas and venues where support will be available are as follows:
Mowbray Gardens Library (every other Monday)
Wath Library (every other Tuesday)
Dinnington Library (every other Wednesday)
Greasbrough Library (every other Thursday)
Maltby Library (every other Friday)
Dalton Parish Hall (every other Monday)
St Paul's Church in Ferham (every other Tuesday)
Canklow Pavilion (every other Wednesday)
Springwell Gardens in East Dene (every other Thursday)
Liberty Church in Masbrough (every other Friday)
You can find out more about Open Arms Community Support Hubs on the RotherFed website.
Councillor Chris Read, Leader of Rotherham Council, said: "We know that the cost of living crisis is continuing to affect residents in the Borough. Rotherham Council and our voluntary and community sector partners are supporting people through this challenging period, and it's more important than ever that people can get access to good quality, independent advice and information. That is why we have prioritised funding this activity as part of the Council's response to the cost of living crisis."
Phil Hayes, Chief Executive at Rotherfed, said: "It's great that we are able to deliver this project out in the community and give local people the opportunity to get involved and access the support that's available to them. We want these hubs to be places where people can drop in at any time and feel comfortable that they can ask for help with the things that matter to them."
Jamie Ashton, Projects and Services Director at Citizens Advice Rotherham, added: "Citizens Advice Rotherham offers practical up-to-date information and advice that is free, confidential, independent and impartial. Our advice is available to everyone regardless of race, gender, sexuality, age, nationality, disability or religion.
"We aim to ensure that people in Rotherham do not suffer from a lack of knowledge on their rights and responsibilities in a wide variety of areas. Come and speak to us at one of the Open Arms sessions to get support from one of our advisors."
Karen O'Reilly, Manager at LASER Credit Union, said: "LASER Credit Union are honoured to be part of the "Open Arms" project and working with its fellow partners to help the residents of Rotherham during these difficult times and the cost of living crisis.
"This project allows us to get to the heart of communities to provide the help and support they need. We are also working with the Illegal Money Lending team to raise awareness of Loan Shark activities, prevention and confidential reporting. We offer ethical loans and encourage saving habits, no matter how little."
Further information around cost of living support can be found on the Council's Money Matters webpage.