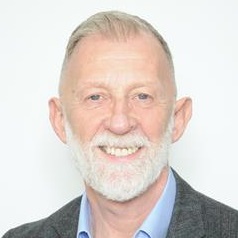 Mayor-elect, Councillor Robert Taylor is set to be appointed as Rotherham's new first-citizen at the Council's Annual Ceremonial Council Meeting this Friday, 19 May.
A former firefighter, Councillor Taylor will raise money for charities close to his heart during his year in office – including Rotherham Hospital, who he credits with saving both his and his wife Tracy's lives following cancer diagnoses.

If confirmed, Councillor Taylor will become the 118th Mayor of Rotherham – following in the footsteps of current Mayor Councillor Tajamal Khan and Rotherham's first-ever Mayor, John Matthew Habershon, who held the position in 1871-1872.

Councillor Taylor served South Yorkshire Fire & Rescue Service from 1983 to 2014, starting out as a trainee, aged 18. He has been a borough councillor since 2015 and represents the Aughton & Swallownest Ward.

Councillor Taylor said: "I feel absolutely honoured and humbled to be chosen to be the Mayor of Rotherham. It never crossed my mind, until a couple of years ago, that I would ever have been, or indeed worthy of, such a position.

"I'm aware of the huge responsibilities of the role and the great opportunities it offers for me to promote and represent the Borough across the many events I will attend over the year, which this year will include the prestige of hosting Yorkshire Day."

The Mayor-elect has chosen three charities to support during his year in office:
The Common Lands of Rotherham – Rotherham's oldest charity, also known as the Feoffees Charity, it has been helping Rotherham citizens for almost 700 years. See the website for more information.
Rotherham Hospital & Community Charity – which has personal significance for the Mayor and Mayoress who have both received life-saving cancer treatment at the hospital in recent years. See the website for more information.
HOPE - South Yorkshire Fire - Road and Water Related Trauma Support for Families - which provides unlimited support to people bereaved or affected by traumatic events such as road traffic collisions, fires or drowning. See the website for more information.
Councillor Taylor has served as the Deputy Mayor for the last 12 months, a role which is set to be taken by Councillor Sheila Cowen.
Mayor's Parade & Service - Saturday 20 May, 10am
People will have chance to welcome the new Mayor at the traditional annual Mayor's Parade & Service, which takes place in Rotherham Town Centre and Rotherham Minster this Saturday, 20 May from 10am.

The event will include a guard of honour of South Yorkshire firefighters, in recognition of his more than 30 year career with the service.