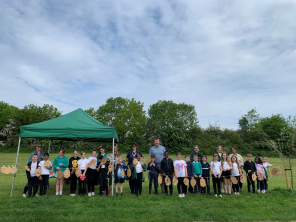 Ward Councillors Adam and Charlotte Carter provided funding to purchase 6 fruit trees to commemorate the Kings Coronation.
Brinsworth Parish Council were happy to provide the perfect location for the trees, which are now planted in Millennium Park where a plaque will be fitted to commemorate the occasion.
To help celebrate, Brinsworth Ward councillors invited Brinsworth Howarth Primary School to accompany them in the park to make bunting.
They were joined by 28 children and staff from the school along with staff from the Council's Woodlands and Neighbourhoods teams.Woodland Officer.
The bunting was in the shape of leaves and the children were asked to write their messages and memories about the Coronation on the leaves. The leaves were decorated with red, white and blue colours.
The Bunting was taken to the Centre in Brinsworth and it will be on display for everyone to enjoy!
This work supports the cleaner and greener Brinsworth Ward priority.
Working with you to help build communities that we can all take pride in is a priority for the Council. Find out about news and events in your area by signing up to receive 'News from your Neighbourhood' e-newsletters, by clicking here.