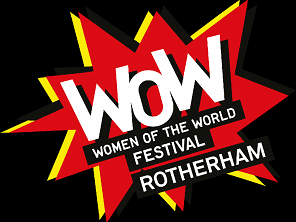 WOW (Women of the World) Festival is returning to Rotherham on Saturday 10 June, and this year it's being co-curated by the WOWsers: a group of young people from across Rotherham whose voices are help
Abi Cobb, Lottie Howe, Sophie Ellingham and Maria Sofragiu are part of the Children's Capital of Culture team of trainees, and have been tasked with programming a very special WOWsers performance that will engage LGBTQ+ communities and young people attending the festival, and bring to light important issues regarding gender and self-esteem.
The WOWsers have been working closely with local arts charity and hip-hop theatre group Rationale Arts to co-curate a special performance that celebrates themes of gender equality and body positivity through dance. Their unique ideas have come through their lived experiences and the issues that affect them as young women.
WOWser Sophie Ellingham explains: "We are so excited to be working with Rationale Arts, who are helping us put together an incredible dance piece for WOW that focuses on gender equality, body positivity and confidence-building. We've brought together a fearless group of 13–19-year-olds who will either perform the dance at the festival, or be involved in its creation behind the scenes. It is completely led by young people of Rotherham.
"We wanted to give festivalgoers something lively and youthful to enjoy, and give more young people in Rotherham more opportunities to engage with the important issues discussed at the WOW Festival in accessible ways."

Rotherham Council's Cabinet Member for Social Inclusion, Councillor David Sheppard adds: "The Children's Capital of Culture initiative exists to empower the young people of Rotherham to find their voice and discover the best in themselves. It's been designed by young people of the borough, and welcomes everyone to be part of it irrespective of their gender identity, faith, age, race, culture, nationality, sexual orientation or any other identity.

"We are committed to creating a space where all people are accepted without exception in Rotherham, which is why we are at the heart of this year's WOW Festival."

The festival will be a welcoming place for young people of all ages to learn important skills while enjoying performances and activities that celebrate women, girls and trans and non-binary people in an accessible, inclusive space. There're talks, culture, music, food, workshops and more, with activities for the whole family to get involved in.
To find out more about WOW Rotherham, head to https://wow.fluxrotherham.org.uk