Future of Copeland Lodge building under consideration
Published Thursday, 19th May 2016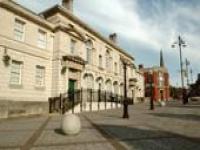 Rotherham Council's Advisory Cabinet is set to consider the closure of the Copeland Lodge building in Thurcroft, on the basis that it is not fit for purpose and is no longer needed.
The proposal follows an extensive review of each service users' needs and is part of a bigger transformation programme for older people and adult care which aims to put customers at the heart of service delivery.
The building, has ongoing issues including problems with the heating, lighting and windows. Over the past few years the service has operated within an environment that was increasingly unfit for purpose. Priority has therefore been given to reviewing customers who use the facility and as a result of this all service users' needs are now being met in an alternative way ,through a range of more tailored or locally based services.
Councillor David Roche, Rotherham Council's Advisory Cabinet Member for Adult Social Care said: "Work is underway to transform adult social care in Rotherham so that we can deliver alternatives to traditional care which improve the quality of people's lives in a more cost efficient and tailored way. Customers using Copeland Lodge are some of the first people to be reviewed and feedback has been extremely positive, demonstrating that customers prefer access to services that are more local to where they live and delivered in a different environment. The recommendation to close Copeland Lodge is not expected to have a negative effect on service users and could create a development opportunity for the Thurcroft Community."
As part of the work undertaken, Community Link Workers have been working with external providers, partners and community groups in the surrounding area to shape what can be offered to customers to enable a positive experience. New providers that are able to meet customer needs in a positive way have been identified and customers have been happy to move to these new services.
A decision is expected to be made at the Cabinet/Commissioners' decision making meeting on Thursday 26 May.