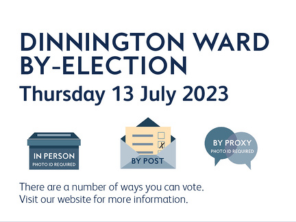 A by-election will take place in a Rotherham ward on Thursday 13 July 2023, the Council has confirmed. The poll will be held to fill a vacancy in Dinnington ward.
The formal notice of the by-election will be published on Thursday 8 June 2023, and potential candidates have until Friday 16 June 2023 to submit their nomination papers.
Residents in Dinnington ward have until midnight on Tuesday 27 June 2023 to register to vote if they are not already on the electoral register and the deadline for new postal votes or to change or cancel existing postal and proxy votes is the day after, at 5pm on Wednesday 28 June 2023. The deadline for applying to vote by proxy is 5pm on Wednesday 5 July 2023.
New legislation means that voters casting their ballots at polling stations will need to show acceptable photographic ID before they can vote. The full list of approved identity documents can be found on the Rotherham Council website but includes driving licences and passports. Expired documents can be used, provided the photograph is still a good likeness.
Residents without acceptable photographic ID can apply for a free Voter Authority Certificate on the government website.
The deadline to apply for a Voter Authority Certificate for this by-election is 5pm on Wednesday 5 July 2023.
Voters will begin to receive their poll cards mid-June, which will include details of which polling station they should use (if not voting by post or proxy).
The result of the by-election is expected to be announced around midnight on polling day.