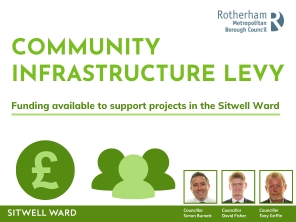 Funding is now available from the Community Infrastructure Levy (CIL) for projects in Sitwell Ward. The current amount available is £121,204.65.
What is the CIL?
CIL is a charge Councils can apply to new developments that can be used to fund the provision or improvement of local infrastructure (such as community space or parks); or anything else that is concerned with addressing the demands the development has placed on the area.
CIL can only be spent on 'capital' projects. These are physical items such as buildings or equipment.
What are the requirements?
Project ideas need to demonstrate how they fit in with the ward priorities for Sitwell, as well as the demands that the development has placed on the area.
The current Sitwell Ward priorities are:
Work with partners to address isolation and loneliness, especially amongst those aged 65+
Work with partners/agencies to improve and protect the environment; including reducing the incidence, and mitigating the impact, of flooding
Support post-covid recovery by working with local groups and schools
Support the local community by responding to their concerns; including embracing heritage and ambition
You can also view these priorities online on the Rotherham Council website.
How can I get involved?
Your Ward Councillors are looking to consider any ideas for how the funding can be used.
We are encouraging local residents to share any ideas you have. The deadline for submitting your initial ideas is Friday 7 July 2023.
To find out more information and to share your ideas please email: neighbourhoods@rotherham.gov.uk
Working with you to help build communities that we can all take pride in is a priority for the Council. Find out about news and events in your area by signing up to receive 'News from your Neighbourhood' e-newsletters, by clicking here.