Proposal to reshape local enabling service gets the go ahead
Published Thursday, 26th May 2016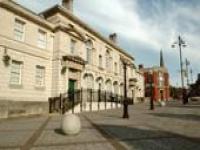 A proposal recommending changes to the way that the Council's Enabling Service is run has been agreed today (26 May) at Rotherham Council's Cabinet/Commissioners' Decision making meeting.
The service which provides intensive support for a short period (usually up to six weeks) to residents who may have lost their ability to live independently or are at risk of doing so, has been reviewed to see how it can continue to have a positive impact on residents' lives whilst achieving a saving of a million pounds.
The proposed new model which retains a 'reshaped' in-house service follows a period of consultation with staff and customers and is based on evidence gained from other areas. The approach will allow more customer focused hours at the same time as delivering the required savings.
Councillor David Roche, Rotherham Council's Advisory Cabinet Member for Adult Care said: "The aim of the new model is to provide a cost effective, modernised, service which maximises individuals' independence. The service will personalise the support provided and respond to more complex cases to enable more people to stay at home. The purpose is not to provide long term support for customers because there are other services that are able to provide this on-going support efficiently and effectively. The Council recognises the potential impact on staff of this proposal and will work with those affected to consider their options."
The recommended model addresses the key challenges of "available time"and reduces the number of staff who attend each customer. Response times for customers being discharged from hospital, receiving support in their home or requiring out of hours assistance will be improved. Alternative options will be looked at on an individual basis for customers receiving onsite support at Oak Trees and Potteries.
A formal staff consultation has been undertaken where staff were given the opportunity to contribute ideas. The model does significantly reduce the size of the workforce and will result in re-deployment and possibly redundancy for some staff. However the Council will do everything possible to find suitable alternatives for staff.