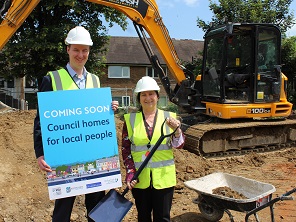 Work has started on the development of ten new affordable, energy saving homes in East Herringthorpe as part of the Council's ambitious housing development programme.
The Leader of Rotherham Council, Councillor Chris Read together with Dalton and Thrybergh Ward Members and contractors R H Fullwood officially broke ground on the site last week.
The Council's build programme has already delivered hundreds of new, high-quality and energy efficient homes. The energy efficiency standards of the East Herringthorpe scheme will be the most ambitious so far and will deliver homes that will achieve a high standard of thermal efficiency.
A range of new technologies will further improve energy efficiency and reduce carbon emissions, exceeding national requirements and making the homes zero-carbon ready.
All ten homes will receive heating and hot water via Air Source Heat Pumps and will feature solar panels to self-generate energy helping reduce energy bills for the eventual occupiers.
Additional measures include under-floor heating and mechanical ventilation and heat recovery (MVHR) to further improve the efficiency of the heating system. MVHR can also improve internal air quality, reduce condensation, and help to manage over-heating.
A range of one and two bed houses and bungalows will be built on the development to meet the high demand for homes for older people and those requiring easy accessibility for family members with a disability.
Once complete, the properties will be available for Council rent to residents who meet the eligibility criteria.
Cllr Read said: "We've set ambitious targets to build more new council homes which are comfortable, affordable and low cost to run in order to meet the needs of Rotherham people.
"Particularly in light of the current cost of living crisis and pressure on energy bills it is more important than ever that we explore how best to deliver more energy efficient homes. These new homes will help us to test more technologies in our community while also supporting the Council's commitment to becoming carbon net zero."
Modern methods of construction will also be used to enhance the pace of build, meaning that the new East Herringthorpe homes will be ready for occupation sooner, helping to mitigate against the impact on the local community.
Procured through the Efficiency North new build framework, the Council is working with RH Fullwood & Co Ltd, a multi-disciplinary construction contractor which focuses on delivery of homes in Yorkshire and Humberside.
Director of R H Fullwood, Guy Fullwood said: "We are excited to be working alongside Rotherham Council on this new scheme. We will be using the project as an opportunity to employ a new apprentice from the local area as well as seeking to employ local people into future job opportunities.
"Our aim is to maximise expenditure of materials secured from the Rotherham area in order to ensure that the Rotherham pound is spent back in the borough."
The scheme marks the latest development in the Council's major housing investment programme and is being supported by a Brownfield Housing Fund grant from the South Yorkshire Mayoral Combined Authority, provided as part of the Government's Levelling Up Fund.
£92m has been identified for housing growth in the borough, with hundreds of new homes planned through to 2025/26.
Since January 2018, the Council has delivered 484 new homes for Council rent or shared ownership, with a further 61 currently under construction or in the process of being purchased.
Pictured: The Leader of Rotherham Council, Councillor Chris Read together with Dalton and Thrybergh Ward Member, Councillor Joanna Baker-Rogers.