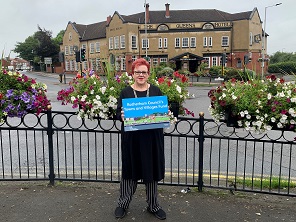 Council leaders are poised to agree investment into Maltby, to the tune of more than £800k.
Cabinet members are recommended to allocate £823,000 of council funds to improve Maltby High Street, when they meet next month.
A Development Proposal has been produced, which highlights how the funding could be used to transform the High Street, with a focus on improving footpath surfacing plus the introduction of soft landscaping and street furniture.
This latest proposed outlay comes on the back of a multi-million pound investment into the town centres of Wath and Dinnington, part of a winning bid secured by Rotherham Council through the Government's Levelling Up Fund.
As works to revitalise and improve Rotherham town centre progress, it is important that investment into local centres is also made.
The Council is committed to improving high streets across the borough. Swinton town centre is set to be revamped and work has started on site. Rotherham Council is also working with Thurcroft Parish Council to relocate Thurcroft's Library onto the high street.
Councillor Sarah Allen, Deputy Leader and Cabinet Member for Neighbourhood Working, said: "We are investing in Rotherham's future, by transforming our towns and villages. To show our commitment to this, members will be asked to agree to pour a significant amount of council money into Maltby, which is one of our key district centres.
"To ensure that the funding is used effectively, we have set out our proposals for where we think the investment should go.
"However, we want the citizens of Maltby to tell us whether these are the plans they want. Their views are essential in helping us to deliver a fit for purpose scheme which will enhance local lives and boost trade and investment into the town."
Consultation is planned to ensure that these priorities meet the needs of Maltby residents. Events are scheduled to take place across the next two months, with details to follow.
The scheme in Maltby is part of the Council's key aim of creating thriving neighbourhoods through its Towns and Villages Fund.
The investment scheme, which runs until 2024, seeks to:
Improve the lived environment of all residents
Enhance the visual appeal of neighbourhoods across the borough
Inspire pride in neighbourhoods
Co-produce projects with neighbourhoods to deliver change that is needed
Deliver on the priorities of wards and/or wider masterplans
Cabinet members are expected to agree reports on the progress in these areas at the same meeting on Monday, August 7. The papers for all the projects are here.