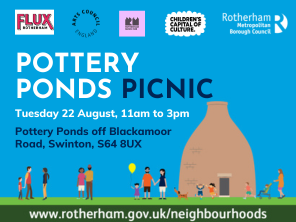 Due to the success of the last year's Pottery Ponds Picnic, the event will be held again on Tuesday 22 August from 11am to 3pm.
There will be lots of activities for families to get involved in.
This event has been supported by Swinton Rockingham councillors, FLUX Rotherham, Children's Capital of Culture, Rotherham Music Hub, and Rotherham Museums Arts and Heritage.
Funding from the Swinton Rockingham Ward budget has allowed for the hire of games and music for all to enjoy at the event.
South Yorkshire Police, RotherFed and the Council's Early Help team will also be attending for families to access advice.
Don't forget, due to limited car parking we would like to ask that you walk to the event where possible.
Bring a picnic and come and spend an afternoon with us in this beautiful location.
Working with you to help build communities that we can all take pride in is a priority for the Council. Find out about news and events in your area by signing up to receive 'News from your Neighbourhood' e-newsletters, by clicking here.