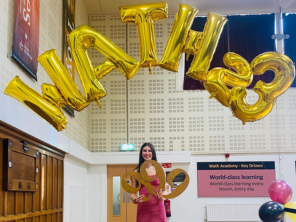 Young people from across Rotherham received their GCSE results yesterday (24 August).
All 16 secondary schools have provided data for the results of nearly 2,500 young people.
Indicative data has been received for key subjects.
GCSE English
71.3% of Rotherham students achieved a grade 4 (pass) or better in English, with 54.1% of students achieving grade 5 or better.
GCSE Maths
67% of Rotherham students achieved a grade 4 (pass) or better in Maths, with 47.2% of students achieving grade 5 or better.
GCSE English and Maths
61.4% of Rotherham students achieved grade 4 or better in English and Maths, with 39.9% achieving grade 5 or better.
Councillor Victoria Cusworth, Cabinet Member for Children and Young People at Rotherham Council, said:
I'm extremely proud of all our young people, teachers, parents, schools and everyone involved in supporting children to achieve the best GCSE results they can. Once again, we've seen many examples of strong results from children across Rotherham.
"The last two years have been extremely disruptive and difficult for everyone involved in education due to the pandemic, but the resilience and hard work they have shown has been outstanding and I wish all our pupils well in whatever comes next for them.
"Support is available in school on next steps for young people who haven't achieved the results they wanted. If you haven't done as well as you'd hoped it isn't the end of the world by any means - time is still on your side - and there are plenty of options still open to you to get to where you want to be.
"As we can see there has been a significant recalibration in GCSE pass grades on a national level this year and Rotherham sits in this trend. What is positive is that we have seen a number of real successes across schools in Rotherham and this bodes well for positive progression in attainment across the borough as we go forward."
Liam Ransome, Principal at Wath Academy, said:
We are delighted with this year's results. The Academy's overall attainment across 8 subjects and attainment in English, Maths and Science has significantly improved from 2019, despite the Government's intention to return to pre-pandemic grade boundaries and outcomes. Our students and staff have gone above and beyond and this year's results are testament to their efforts, particularly due to the disruption to education the students faced due to the pandemic over the last few years.
"There are many success stories within the year group, particularly Mya Mcveigh-Judd and Holly McMaster who achieved ten grade 9s, Isobelle Fenton achieved eight grade 9s and Oliver Handby achieved seven grade 9s. We are very proud of all of our students due to the hard work and dedication they demonstrated throughout their time with us at the academy. We would like to thank the students, parents, staff and the community for their continued investment and support."
Chris Eccles, Headteacher at Oakwood High School, added:
We are proud of the many achievements of the class of 2023, collectively and as individuals. They have overcome unimaginable disruption to their teaching and learning during their five years and it is testimony to their hard work, commitment and determination that so many of them have done well and been rewarded for their efforts.
"At this stage we are not able to calculate the progress they have made as this is determined annually once all results nationally have been calibrated and greater uncertainty lies with this this year, with the reported move back towards the 2019 grade boundaries and as a consequence a reduction in the number of higher grades. However, at Oakwood there have been improvements from 2019 at 7+ and 5+ in English, History, Religious Studies, Biology, Maths, Chemistry, Physics, Sport and Health and Social Care.
"Thanks to the support pupils have received from staff across the school, Oakwood High School will once again have helped secure the next steps into education, training or employment for their pupils and wish them every success in the future."
Pepe Di'Iasio, Headteacher at Wales High School, said:
Congratulations to all our students and teachers on today's results. An enormous amount of hard work has gone into these qualifications in often difficult circumstances and the young people receiving their results today deserve every great credit for what they have achieved.
Help for young people in Rotherham with mental health and wellbeing is available at www.kooth.com - support is free, anonymous and safe.