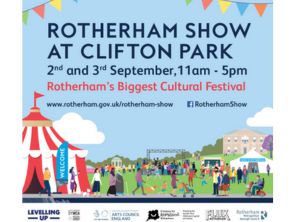 This weekend's brilliant weather and the fantastic variety of performances and activities on offer, brought out one of the biggest crowds for years at the Rotherham Show.
A crowd of almost 90,000* headed for Clifton Park for this year's two-day extravaganza, the largest free cultural festival to take place in the North of England.
The show, which is organised annually by Rotherham Council, offered new spaces this year including a dedicated Children's Capital of Culture Area, Festival Village from Flux Rotherham and a Moving Rotherham area, as well as all the usual favourites such as the Vintage Vehicle Rally, Made in Rotherham, Companion Dog Show, and Strongman Competitions.
There was also plenty of live music on offer on two stages and throughout the park, programmed by Rotherham Music Hub and Khula Arts, plus so much more to entertain and wow visitors throughout the weekend.
Rotherham Council's Cabinet Member for Social Inclusion Cllr David Sheppard, said: "The weather was on our side this year, with the sun coming out just for Rotherham Show. As usual it did not disappoint, with a variety of different acts and attractions there was something there for everyone to enjoy. We hope the event remains the highlight of people's calendar for next year and many years to come. Thank you to all who were involved in making this year's show as fun as possible, including our funder, Arts Council of England, who alongside the Council, make the Show the biggest free cultural festival of its kind in the north."