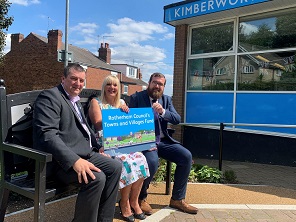 Improvements have been made to the land outside Kimberworth Library and Neighbourhood Hub, thanks to funding from Rotherham Council's Towns and Villages Fund.
Previously, the area appeared in need of improvements, with the street furniture dated and in need of replacement. Existing block paving to this area, had also started to lift due to the presence of tree roots.
Following the works, the central green space to the front of the popular library has now been enhanced with a boundary hedge and ornamental shrub planting, whilst three newly designed benches have created a pleasant space to sit.
One of the benches has been designed to commemorate the Queens Platinum Jubilee, one is dedicated to NHS workers, whilst the third remembers those who lost their life to Covid-19.
Accessibility to the library and nearby shops has also been improved for those with mobility difficulties, with replacement knee rails and additional handrails to aid access to the nearby facilities.
Work has also taken place on the opposite side of Herbert Street, with reseeding and bulb planting to provide spring colour, as well as planting of an additional tree.
Consultation was carried out before work began with Ward Councillors engaging with local residents and business owners to establish what improvements they would like to see in the area.
The Towns and Villages Fund is a multi-million pound commitment from Rotherham Council to deliver improvements to towns and village centres across the borough.
Councillor Eve Rose Keenan, Councillor for Rotherham West, said: "The area was in need of improvement and I'm delighted to see the final results. Supporting activity that focuses on mental wellbeing is a key ward priority so giving residents a place to relax, reflect and look at the new plants and flowers is wonderful."
Councillor Ian Jones, Councillor for Rotherham West, added: "The work that has taken place supports our ward priority around improving our green spaces. This area is now much more attractive and is now a real focal point in the heart of our local community."
Councillor Ben Aveyard, Councillor for Rotherham West, added: "It was really important to us we spoke with local residents about changes that would be most beneficial to them and I'm really pleased we've been able to implement the suggestions put forward, the area looks great."
Councillor Sarah Allen, Deputy Leader and Cabinet Member for Neighbourhood Working, said: "As works to revitalise and improve Rotherham Town Centre progress, it is important that investment in local areas is also made, with the Towns and Villages Fund improving the look and feel of our neighbourhoods."
You can find out more about the Towns and Villages Fund via: www.rotherham.gov.uk/villages

Pictured: Rotherham West Ward Councillors; Cllr Ian Jones, Cllr Eve Rose Keenan and Cllr Ben Aveyard on one of the newly installed benches.