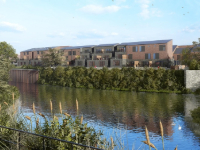 Rotherham Council's Cabinet is set to formally approve plans to build 171 new homes in a £30 million investment intended to breathe new life into three rundown town centre sites.
The Council's Cabinet will consider the exciting plans for Sheffield Road Car Park, Millford House and the former Henley's Garage site at their next meeting, on 21 October.
It is hoped the go ahead will kick-start further major house building schemes in the town centre, with the provision of new homes identified as a key regeneration priority in the Town Centre Masterplan.
The proposed developments include a mixture of council homes for rent, shared ownership and private properties for sale:
Sheffield Road car park – 78 homes (44 Council, 34 private)
Millfold House – 39 homes (25 Council, 14 private)
Former Henley's Garage, Wellgate – 54 homes (23 Council, 31 shared ownership)
The three sites are all at high-profile, gateway locations in the town centre and are adjacent to land with potential for further housing development.
Working with construction partner, Wilmot Dixon Construction Ltd, planning applications have been submitted for all three sites.
By bringing the scheme forward at the same time as the huge Forge Island regeneration, the Council aims to show there is a demand for town centre living in Rotherham and provide the confidence and conditions for private sector investment.
Councillor Dominic Beck, Cabinet Member for Housing at Rotherham Council, said: "These are exciting, significant proposals which will deliver 171 new properties for local people, including 123 Council rented and shared ownership homes, It will totally transform three disused former industrial sites and kick-start a raft of new housing development in the town centre.
"The developments include a variety of property types to suit people of different ages including first-time buyers, key workers, families and older downsizers. There will also be a block of 23 Council-rented apartments on the former Henley's Garage site which will be age-banded for applicants of over 50 years of age.
"A lot of hard work has gone into putting these plans together and I think we have come up with a fantastic scheme, which will contribute towards our ambitions for housing growth and town centre regeneration."
Securing funding for the schemes is at an advanced stage. As a high proportion of the properties will be affordable homes, Council funding will come from the Housing Revenue Account. The Council has applied for grant funding from Homes England Shared Ownership and Affordable Homes Programme and from Sheffield City Region Housing Capital Fund.
If the Cabinet agrees the proposals, and subject to detailed planning permission being agreed, it is likely that building work will start on site in February next year, with the first homes available by the Spring of 2021 and the entire scheme complete by early 2022.
Visit the Rother Living website