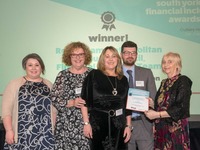 Rotherham Council's Financial Inclusion team has been recognised for its work in helping people to better manage their finances.
The team, part of the Council's Housing Service, was rewarded at the inaugural South Yorkshire Financial Inclusion awards, that celebrate local people and organisations who are making a difference in their communities by helping people to manage their money.
The awards are part of the South Yorkshire Good Credit Project which is run by the cross party think tank Demos and is working with housing providers, councils, employers and the voluntary sector to improve people's access to good credit as an alternative to high-cost lending.
The team was presented with the award for Promoting Financial Inclusion and have received £1,000 to donate to a local charity of their choice.
Cllr Sarah Allen, Rotherham Council's Cabinet Member for Cleaner, Greener Communities, said: "It's great to see the hard work of the team getting recognition in this way. The awards recognise organisations that are helping people to help themselves by making changes over time to build their financial resilience.
"Financial inclusion means everyone having access to financial products and services that are affordable, transparent and fair. Without this, people end up paying more for essential goods and services and have less choice."
The ceremony was held at the historic Cutlers' Hall in Sheffield and the event was hosted by Sheffield City Region Mayor Dan Jarvis MP.
The team have donated the £1,000 prize to the Rotherham Mayor's Charity.