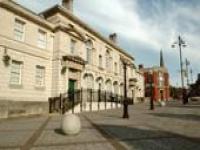 Rotherham is one of 11 pioneering councils to sign up to a new national network of councils committed to keeping services in the hands of community organisations - Locality's Keep it Local Network.
Keep it Local councils are moving away from bureaucratic commissioning and big outsourcing contracts following a series of high profile failures across the country. Instead they are choosing to unlock the power of community by commissioning local community organisations that put local people at the heart of the services they receive.
Charity Locality, who is working on this campaign in partnership with the Lloyds Bank Foundation for England and Wales, is calling on other councils in the area to sign up to the Keep it Local Network.
Councillor Chris Read, Leader of Rotherham Council, said: "The Keep it Local principles are an important part of our agenda for Rotherham, so we were keen to be amongst the first authorities to sign up to the campaign. Through our Thriving Neighbourhoods Strategy we are putting local communities at the heart of everything we do, strengthening the role of our councillors as leaders in their communities, whilst our commitment to social value means much more of our £300 million annual spend will go towards creating jobs, higher pay, based on schemes that are co-designed with our residents and service users."
Local community organisations have multiple advantages over large national organisations, including keeping public resources invested in the local economy and having in depth local knowledge and connections built up over many years. This means they have a deep understanding of what local people need. They intervene early and work collaboratively with other community organisations to create services that really work for people. By doing this, not only are councils having a transformative impact on individual lives, they have been shown to deliver savings for local authorities through prevention of demand for other public services.
Steph Hryschko, Trustee at Kiveton Park and Wales Community Development Trust, a local community organisation, said: "Kiveton Park and Wales Community Development Trust has been working in the community for 21 years. We have developed so many initiatives and facilities that have had a positive impact on the residents of our area. There's the 3G Astroturf Sports Park that opened in 2016 and is used by over 25,000 residents per year, for instance, or the Social Prescribing Hub providing activities and luncheon clubs for the elderly.
"We are delighted that Rotherham Council has signed up to proactively support our organisation and others like us. Working in genuine partnership we can double the impact."
Tony Armstrong, CEO of Locality, said: "We're thrilled that Rotherham is trailblazing the way for other councils by signing up to Keep it Local. Service delivery built on local partnership and the power of community delivers outstanding services for local people. Councils should see collaboration with these organisations as an investment, rather than a simple public spending decision. Not only do councils receive a distinctively high quality service, but they are supporting and plugging into the power of a community network and generating additional social and economic value for their communities."
The Keep it Local trailblazer councils have committed to the six Keep it Local principles, appointed champions in their cabinet and senior leadership team and have committed to working with Locality to assess and improve their current practice. The six Keep it Local principles are:
Think about the whole system and not individual service silos
Coordinate services at the neighbourhood level
Increase local spend to invest in the local economy
Focus on early intervention now to save costs tomorrow
Commit to your community and proactively support local organisations
Commission services simply and collaboratively so they are local by default.
Locality is calling on other councils in the area to join the Keep it Local network and unlock the power in their community: building strong local partnerships, sharing power and maximising local strengths. More information on the steps councils need to take to join Locality's Keep it Local campaign can be found here www.locality.org.uk/keepitlocal.
Bradford Metropolitan District Council, Bristol City Council, Calderdale Council, Hackney Council, Kirklees Council, Lewisham Council, Newcastle City Council, Oldham Council, South Gloucestershire and Wirral Council are the other 10 councils from across the country to sign up to the Keep it Local Network.
More about the Council's Social Value Policy