Response to Government interventions: the use of Commissioners in Rotherham Metropolitan Borough Council
Published Friday, 19th August 2016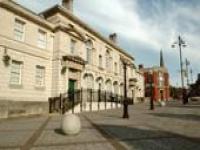 Cllr Read, Leader of Rotherham Metropolitan Borough Council:
"I have always been very clear that we must be honest about failings of the past in Rotherham. We fully accepted the need for intervention and we have worked collaboratively with Commissioners over the past 18 months; to redefine what our priorities are, our promise to Rotherham residents and our ambitions for the borough.
"We are reshaping the culture and values of the organisation, so that we are focused on better ways of working and a culture that wants to learn and improve.
"This improvement journey is one we are committed to far beyond the next three years that the Commissioners may be with us. We are taking decisive action to tackle child sexual exploitation as we build a Rotherham where children and young people are supported by the community and are protected from harm.
"I welcome the recommendations of the Committee, in relation to taxi licensing in particular. Rotherham's new taxi policy sets a standard that is amongst the highest in the country and the Council is already talking to neighbouring authorities in South Yorkshire to try to get a consistent standard across the region. Currently by law the Council cannot stop drivers registered elsewhere working in Rotherham, but by asking for a Rotherham Council licensed drive when passengers book a taxi, passengers can be assured both the driver and the vehicle meets the high standard set out in our new regulations.
"We have, with the support of the Commissioners, reviewed our whistleblowing policy; the way it is being implemented and the support for staff who wish to raise concerns. We are seeing cases come through that we might not have seen previously and are encouraging staff to come forward and express their concerns without the fear of victimisation, discrimination or disadvantage. The Council now is a very different place to how it was two years ago, and in another two years it will have improved much further.
"Our senior leadership team and services work closely with colleagues across the region and nationally, sharing best practice and a strong drive for continuous improvement. This is evident in everyday practices and in the Council playing a central role in CSE focused discussions such as the Tackling CSE Conference earlier this year. Our Commissioners report back regularly and in detail to government, and I look forward to sharing our learning more widely in the future to ensure that other towns never have to experience the failings seen in Rotherham".
Read the report