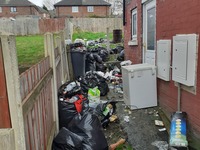 Residents who refuse to keep their gardens free from rubbish could face hefty penalties after a council tenant was fined for breaching an abatement notice and failing to clear waste from their garden.
Miss Tracey Mounsey, of Herringthorpe Valley Road, Rotherham, was served an abatement notice by the Council in January 2019 after complaints from other residents in the area of a build-up of rubbish her garden.
She was fined £440 and ordered to pay £307.29 in costs with a victim surcharge of £44.
The Council can issue an abatement notice on a person responsible for repetitive nuisances, such as playing loud music at night, burning rubbish in bonfires or allowing rubbish to accumulate in garden. The aim of the notice is to stop or limit the activity to avoid it causing a nuisance.
Miss Mounsey failed to appear at Sheffield Magistrates' Court on Thursday 6 February 2020 and the case was proven in her absence.
Rotherham Council's Cabinet Member for Safer Communities, Cllr Emma Hoddinott, said: "Despite attempts to support the tenant to clear the rubbish on her property, the notice she was given was not adhered to.
"It is important to ensure that all householders dispose of waste quickly and legally to avoid problems such as rats and disease, from spreading. Those who allow waste to build up on in their gardens will face similar penalties."
Find out more about waste removal and the services available here.