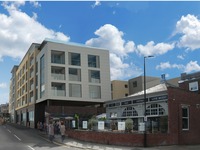 Dilapidated buildings in Rotherham town centre will be given a new lease of life as conversion work enters its second phase.
Work on Westgate Chambers will continue as two buildings on Domine Lane will be demolished in March 2020 to make way for 32 new apartments.
Space for integral balconies or roof terraces will also be built, as well as retail space on the ground floor and the existing courtyard entrance will be moved to the bottom of the street.
The two buildings scheduled to be demolished are a late nineteenth century brick built two-storey building and a three-story 1960s office building, which are both in a derelict state.
Subject to Council approval, Domine Lane will be closed for up to two weeks in mid-March for the demolition to take place. Pedestrians will still be able to walk to town on Market Street or via Main Street, and Forge Island car park will be unaffected by the road closure.
Plans for five floors of family friendly apartments in the Westgate Chambers site was approved by Rotherham Council in January 2018 and work began on the 29 apartments in the Main Street/Westgate section three months later.
The original building was built by architect John Platt in 1794 as a private residence and includes a Georgian façade. The Georgian part of the building is Grade 2 Listed. Additional buildings were added to the site throughout the 19th and 20th centuries.
Rotherham Council's Assistant Director for Planning, Regeneration and Transport, Simon Moss, said: "Regeneration of the town centre not only means constructing new buildings, it is also important to remember our heritage by restoring historical buildings like Westgate Chambers so that they continue to be used by residents.
"One of the Council's key priorities is to help local people and businesses benefit from a growing economy, with a thriving town centre and more people living, working and spending their leisure time here."
Rotherham Council agreed to sell the Westgate complex to HMP Bespoke Construction Ltd in 2014.
Peter Hill, Director of HMP Bespoke Construction Ltd, said: "We are entering a new phase of works as part of the planned five-year build programme. We are looking forward to the development moving forward with the additional regeneration of Rotherham town centre, bringing in new restaurants, entertainment and leisure facilities to help new residents to live, work, rest and play and most importantly creating new town centre jobs."