Hope Fields, a living memorial, to honour both the victims of COVID-19 and those who fought the virus, is to open at Thrybergh Country Park on the 27th March, marking one year since the first lockdown was announced.
Hope Fields has been designed in consultation with communities from across the borough as a tribute not only to people who lost their lives, but also those who were part of the emergency response and recovery effort – from key workers to volunteers and communities.
In consultation with residents, bereaved families, key workers, and support groups, we were asked to find a way to not only remember, but to also to recover. Hope Fields creates a memorial but it also creates a space for us to collectively heal, it allows people to grieve for what they have lost - whether that was a loved one, a way of life, confidence or hope - whilst also looking forward and giving thanks for the support that communities gave throughout the pandemic.
At the heart of Hope Fields is the nature and wildlife that surrounds the site. The field will provide a place to recover from the 27th March but will continue to grow and change with the seasons throughout the years to come. Not only will Hope Fields be a haven of trees, plants, and animals but within it, there are four artist installations, that have been commissioned for the site to celebrate life, including a beautiful bird hide, a playful mud kitchen and poignant memorials.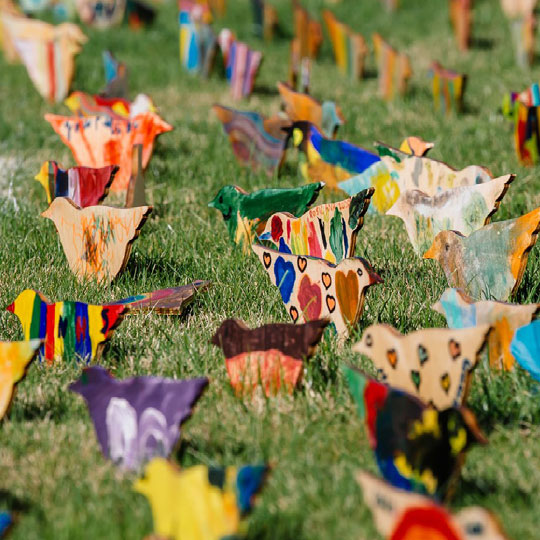 A Celebration of Life and Hope
Dan Jones, a local artist, sculptor, and stonemason will create a moving tribute to all those who lost their lives through the pandemic, which will sit at the top of Hope Fields overlooking the beautiful lake. The memorial will incorporate shapes that represent more positive aspects of the pandemic, such as the rainbow, which has been a symbol of hope and thanks to medical and caring professions and other essential key workers, and focus on looking forwards or through the pandemic towards a better time.
A Playful Exploration of Nature
Local artists Jason and Coralie Turpin have designed a range of playful seating, castings, and a sculpture, which will be woven through the field providing moments of joy and comfort. The benches will be created by the staff team at Thrybergh Country Park using natural materials and inviting people to enjoy the many views from the field. A playful curved bench will provide a willow den and a stone mud kitchen, welcoming families to play and learn in nature. The final piece created by Jason and Coralie is an iron hare sculpture which will leap from a new community orchard. This friendly guardian will represent hope of new life and the return of spring, creating a tactile touchstone and muchloved character for Hope Fields.
Celebrating Nature and Life
Hope Fields will sit within a well-established bird watching area, which will remain an important part of the wildlife in the field. Rotherham-based Artworks will be creating a new bird hide with the input from local bird watchers which will overlook a new pond and wetland, and continue to provide a safe haven for wildlife in all its forms. In time, when the artists are able to attend the site, interpretation of the birds will be added to help children and families interact with nature.