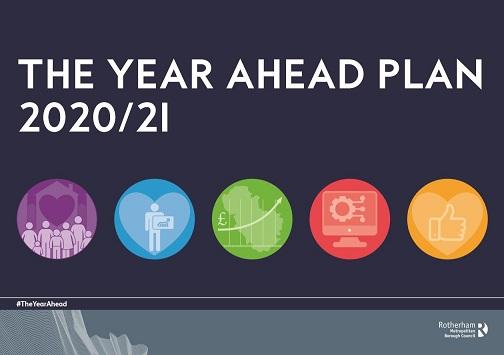 Rotherham Council is setting out its priorities as the borough works within and emerges from the Covid-19 pandemic.
The Year Ahead establishes the Council's strategy and plan of action through to May 2021 – detailing how it will continue to deal with the pandemic and its impact and also looking forward, to how it will deliver on ambitious regeneration proposals to aid Rotherham's recovery and embed new ways of working.
The Year Ahead will form the basis for the development of a longer-term plan for the borough. The Council's Cabinet will discuss the plan at its
meeting on Monday 21st September
Meanwhile local people, organisations and businesses are being invited to find out more and have their say on the Council's
Year Ahead website
.
Councillor Chris Read, Leader of Rotherham Council, said: "Quite rightly, the Council has been focused on dealing with the immediate impact of Covid-19 and the daily challenges that brings for our communities, businesses and services.
"In the immediate term, it's important we have plans in place to continue to respond to and operate within the constraints that Covid-19 brings, supporting our most vulnerable residents, protecting jobs and livelihoods and doing everything possible to contain the spread of the virus. And we must also consider how we are responding to the other challenges that Covid-19 has posed; the impact on some street cleaning services, tackling social isolation, and making sure people can access the information they need.
"But residents will also want to know what else the Council is committed to delivering this year; delivering our investment in local libraries, continuing to tackle homelessness, domestic violence and financial exploitation. We are continuing to push to get the most benefits for the local economy from every pound that the council spends, and bringing in the additional investment that the borough needs. And we are playing a leading role in the Rotherham Together programme of events to help the community through what may still be difficult months ahead."
The plan details how the Council will work with Rotherham communities, residents and businesses in these uncertain times; providing ongoing support to those who continue to be affected by the pandemic and helping to build resilience as the borough adapts to the challenges ahead.
The plan set our 77 specific actions the Council will undertake over the coming months, divided into five themes:
Thriving Neighbourhoods
Better Health and Wellbeing
Economic Recovery
New ways of working, and
Hope and confidence in Rotherham

The Year Ahead Plan is subject to Cabinet approval next week.