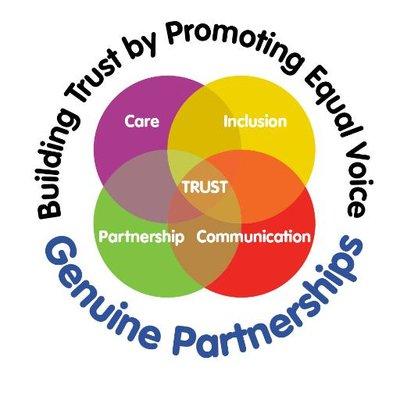 A new way of working between schools and families to improve outcomes for children with additional learning needs, developed in Rotherham and now used nationwide, celebrates its 10th birthday today.
A Rotherham Charter, now known as The Four Cornerstones of Co-production, was officially launched on 23 March 2011.
The Charter evolved when parents/carers of young people with additional learning needs, specialist and school-based practitioners got together to look at how best to develop equal partnership working with young people and the schools and settings they attended.
Those involved had managed to secure funding from the government for innovative project work which would improve parental confidence in the systems and processes for children and young people with Special Educational Needs (SEND). Following a year of hard work, the Rotherham Charter was launched at the Carlton Park Hotel on the 23 March 2011.
Subsequently, 24 schools and settings have been awarded the Genuine Partnerships Gold Accreditation award, a process that takes over two years, and builds on the commitment and practice in schools and settings dedicated to partnership working and ensuring children and young people have the best experience they can whilst in their care.
The practice developed by the Genuine Partnership process has influenced national legislation, namely the Special Educational Needs and Disabilities Reforms of 2014.
Rotherham's Genuine Partnerships team has undertaken work across the country in different local authorities from the Isles of Scilly to latterly , Hull, Bury and Telford, to promote equal partnership working. The team has grown to include more than 40 young people, parent carers and practitioners together promoting and modelling equal partnership and co-production working.
In Rotherham itself, the Cornerstones model is now underpinning Rotherham's Special Education Needs and Disability Strategy.
Suzanne Joyner, Strategic Director of Children and Young Peoples Services at Rotherham Council said: "It's testament to the pioneers of the Rotherham Charter that it is still as an effective and relevant approach today as it was when it was first launched ten years ago. I am proud that a new way of working developed here in Rotherham has had such a major influence on national education policy and – more importantly – led to better educational outcomes for children, young people, families and schools.
"We look forward to planning a safe but joyful celebration to commemorate our 10th anniversary in the summer to recognise the hard work and commitment of all those involved in the process, our 24 schools and settings with Charter Gold Accreditation, and the commitment by strategic leaders to embedding true and equal partnership working across Rotherham's schools and services."