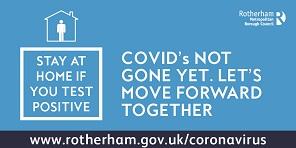 Covid-19 infection rates in Rotherham have reached their highest level since the start of the pandemic – a stark reminder that the virus remains a serious threat to public health.
The infection rate reached 549.3 per 100,000 population on Thursday 22 July, with 1,458 new positive cases reported in 7 days to 16 July. The previous highest was during the second wave of the pandemic in October 2020 when the rate reached 537.3 per 100,000.
A further increase today, to 573.5 per 100,000 was reported to the Rotherham Local Outbreak Engagement Board meeting this morning.
Whilst the infection rate is currently lower than in neighbouring authority areas, it is well above the national average of 472.3 per 100,000.
Latest projections show that the rate is likely to continue to rise over the coming weeks. Although, thanks to the impact of vaccination programme, admissions of the most seriously ill covid patients to Rotherham Hospital have not reached the same level as they did during the previous high – they have doubled in the last week, from 14 on 14 July to 28 on 21 July.
More than 70% of Rotherham residents have now been double-vaccinated. It is essential that when people take-up the offer of the vaccine, that they go on to receive both first and second doses.
And there are simple, day-to-day actions everyone can take to reduce the spread of the virus:
Wear a face covering in busy places, indoor venues and on public transport
Always use the hand-sanitiser provided when you're shopping or socialising and wash your hands when you get home
Try and keep a reasonable distance away from other people when you're out and about, especially indoors, in shops or at work
If you have visitors, keep windows and doors open as much as possible to let air through or sit outside if the weather is good
Test yourself regularly – lots of venues are now providing free test kits, including libraries, pharmacies and leisure centres. Always self-isolate at home If you test positive, start to get symptoms or are instructed to do so by NHS Test and Trace.
Ben Anderson, Rotherham Council's Director of Public Health, said: "During the previous peak in infections, many restrictions were in place to reduce social contact and curb the spread of the virus. The vaccine has had a huge impact in reducing transmission and serious illness of course, but with few formal restrictions now in place and the highly contagious Delta variant accounting for virtually all new cases, there are still a lot of simple things we can all do as part of our everyday routine to protect ourselves, our families, our workplaces and the NHS.
"Perhaps most importantly of all, please get the vaccine when you can. If you're unsure, for whatever reason, speak to your doctor, pharmacy or any medical professional. More than 70% of residents in Rotherham are now fully vaccinated and much less likely to get seriously ill from Covid-19 or catch it in the first place.
"It's everyone's responsibility to do all they can to support each other. The freedoms we have now have been hard won by people acting responsibly and making covid safety part of their daily routine. As we learn to live with the virus we will continue to need to adopt some of these measures, especially while local case rates remain high. Let's keep it up and keep moving forward together."
The latest information on coronavirus in Rotherham is available from the Council's Coronavirus website.
The Council also issues regular Covid ebulletins. Sign up to receive Covid updates and bulletins relating to other Council services direct to your inbox.