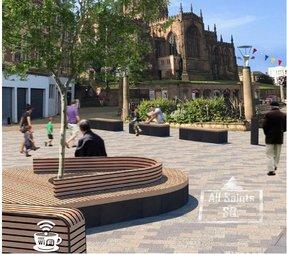 Major improvements to the appearance, layout and safety of Rotherham Town Centre are set to get the go ahead by Rotherham Council's Cabinet at its meeting on 23 December.
Phase one of the public realm improvement scheme – part of the Rotherham Town Centre Masterplan – will see a wide range of improvements to College Street, Bridgegate, Howard Street (Frederick St to Market Sq) and Effingham Street (All Saint's Sq to Market Sq).

The scheme will be funded from the Council's £17 million Town Centre Investment Fund (TCIF) set up to deliver the Masterplan and could also include contributions from Future High Streets Fund (FHSF) and Transforming Cities Fund, if bids are successful.
The proposals include:
New short stay parking spaces along College Street to improve access to the heart of the Town Centre
Removal of planter beds and seating on Bridgegate, to help tackle anti-social behaviour and open up views of the Minster
Upgraded lighting to improve safety
Improved stall layout on Effingham Street to create more space for traders and more capacity for other street markets
Infrastructure work to provide new power supplies for market stalls and events
Replacement street furniture, such as litter bins, signage and bollards
New user-friendly seating, in line with Standing Up for Sitting Down campaign standards

Councillor Denise Lelliott, Cabinet Member for Jobs and the Local Economy, said: "We're determined to see Rotherham Town Centre thrive, not just survive. The public realm improvements are part of our wider Town Centre masterplan which will see significant investment in our town centre over the next few years, in addition to recent regeneration, including the £12 million interchange upgrade and £10.5 million University Centre Rotherham.
"The public realm improvements will ensure the huge boost that the Forge Island project will bring to Rotherham will be felt across the whole town centre through improved connectivity.
This will also complement the redevelopment of the markets complex and three new town centre housing developments on derelict brownfield sites."
Subject to Cabinet approval, a contractor to deliver the project will be appointed early in the new year with work on the improvements set to start in April and be completed by next October.