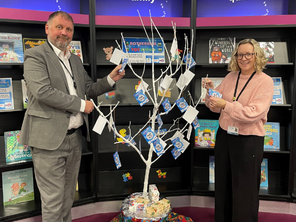 Rotherham Council is supporting the Rotherham Christmas Toy Appeal to bring festive cheer to families in need across the borough.
The annual campaign by local charity Families First saw more than 2,000 gifts handed out last year to children who may otherwise have not had a present to open on Christmas morning.
Parkgate Shopping is now acting as the sole collection and drop off point for gift donations.
To take part, all you have to do is collect a gift tag from one of the many participating stores at Parkgate Shopping and then return the tag at a later date with an appropriate gift.
Before Christmas Eve, the gifts will be delivered to families in need so each child will wake up to a present in their stocking or under the tree.
The Council's Children and Young People's service work with Families First to identify children to benefit from the campaign.
The appeal is also supported by RB1 Radio, Parkgate Shopping Centre, and Rotherham Advertiser. and was launched by the Mayor of Rotherham, Cllr Khan, on Monday 7 November at Parkgate Shopping Centre, which also acts as a collection point.
Rotherham Council's Cabinet Member for Children and Young People, Cllr Victoria Cusworth, said: "The Christmas Toy appeal is a fantastic way that residents across Rotherham can help to support children who otherwise may not get a present this Christmas. To give to the appeal doesn't need to cost a lot, but the effect it will have on the children part of the appeal is huge. I am proud that our local residents get behind the campaign in such great numbers every year."
Rotherham Council's Cabinet Member for Social Inclusion, Cllr David Sheppard, said: "Christmas can feel very different for children and young people who have experienced difficult times, but with thanks to Families First we are able to help bring the magic of Christmas back as many children will receive a present to unwrap on Christmas morning. Thank you to everyone who has donated so far, it really is appreciated."
To find your local library, go to www.rotherham.gov.uk/libraries.