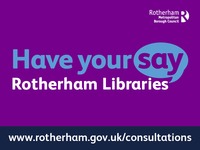 Rotherham Council is launching two new consultations to ask members of the public their views on the future of libraries in the borough.
The Council is committed to making improvements to all 15 libraries in the borough, and is setting aside capital investment to make this possible.
During the last year, the Council has been working on its Library strategy which outlines how libraries could be run over the next five years, including the locations of the buildings, the availability of books, up-to-date computers and updating facilities to be more family friendly. The library consultation asks residents for their views on the strategy and any other improvements they might like to see.
The consultation is now open and will be the last opportunity for the public to submit their views on the strategy before it is sent to the Council's Cabinet and subsequently Council meeting.
In the case of Brinsworth Library, where a separate consultation is being held for residents, a community led library is being proposed. The current library has been hosted in a "temporary" building for decades, and the Council has been working with Brinsworth Parish Council to build a new £270,000 purpose-built facility which is due to open soon. The proposal is that the new community library will be run by Brinsworth Community Trust with support from Rotherham Council.
Both consultations close on Sunday 26 April 2020.
Cllr Sarah Allen, Cabinet Member for Cleaner, Greener Communities, said: "Libraries are an integral part of our neighbourhoods and it's important that we create a library service that is responsive to the community's needs. The consultation is looking how we can best use resources, such as the use of technology and the range of book and audiobooks available, so that libraries continue to be accessible by everyone. We want to inspire learning and bring communities together."
Drop-in sessions will be available at all library sites throughout February, March and April to allow residents to ask members of staff about the consultations.
For further information or to take part in the survey, click here.