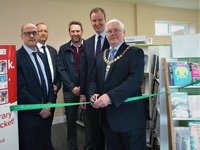 The doors to Brinsworth's new £270,000 community library have officially opened.
The building, which is an extension to the pavilion on the Field View estate, has been built thanks to a joint project by Rotherham Council and Brinsworth Parish Council.
An open day is being held for local residents on Thursday 5th March so they can take a look at the new facilities. A number of activities will be on offer during the day including Knit and Natter and children's activities.
Cllr Sarah Allen, cabinet member for cleaner, greener communities, said: "The new library in Brinsworth is a great community asset. Libraries play an integral part of our neighbourhoods and it's important that we help to create a service that is responsive to the local community's needs."
Rotherham Council awarded £148,401 to the parish council to help fund the new library with additional funding being provided by a community grant from Barratt Homes.
Ian Ruthven, Managing Director at Barratt Homes Yorkshire West said: "We're delighted to have contributed to the building of the new library in Brinsworth. We're always keen to support with the creation of community hubs that provide vital resources for learning and inspiration for all."
Rotherham Council is launching two new consultations to ask members of the public their views on the future of libraries. The Council is committed to making improvements to all 15 libraries in the borough, and is setting aside capital investment to make this possible.
The consultation is now open and will be the last opportunity for the public to submit their views on the strategy before it is sent to the Council's Cabinet and subsequent Council meeting.
A separate consultation is being held for residents regrading Brinsworth Library with a community led library being proposed. The proposal is that the new community library will be run by Brinsworth Parish Council with support from Rotherham Council.
Both consultations close on Sunday 26 April 2020.
For further information or to take part in the survey Click here