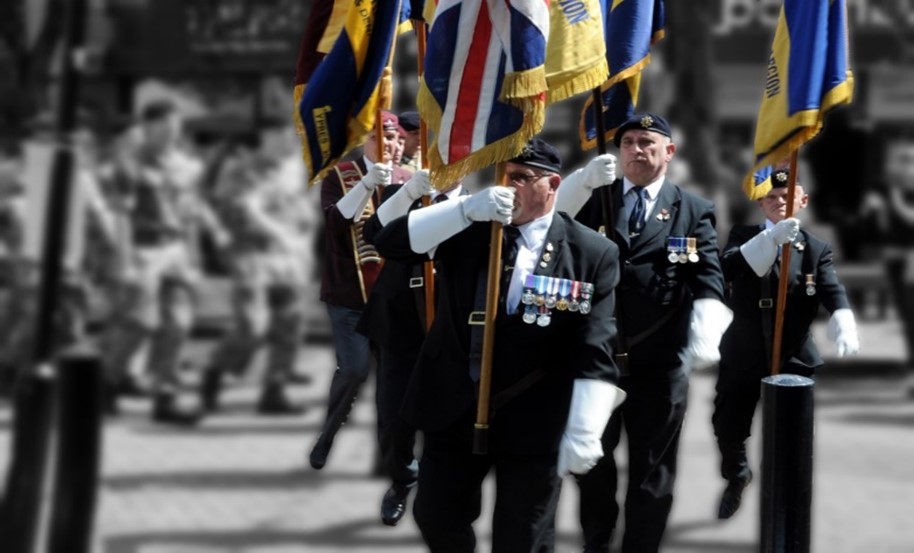 The Rotherham Armed Forces Community Covenant applies to the current members of the armed forces, a veteran or family member. It applies to Regular Personnel, Merchant Navy, Reservists, and the Bereaved family members of those who served.
To those who proudly protect our Nation, who do so with honour, courage, and commitment.
Who makes up the Armed Forces Community?
A veteran is classed as someone who has served at least one full day in the armed forces.
(HM Government,2021)
Definition of the Armed Forces Community.
Regular Personnel: currently serving: Royal Navy, Army, Royal Air Force
Merchant Navy: served for at least one day on active service
Reservists: Volunteer reserves and regular reserves
Veterans: served for at least one day, regular or reserve service
Families: immediate family; spouses, civil or other partners, children whom the veteran or their partner are responsible
Bereaved: Immediate family of service personnel or veterans who have died
Carers: carer for service personnel or veterans
Cadets: young people who are members of the Army Cadets Force, Sea Cadets Corps or Air Training Corps.
The Armed Forces Covenant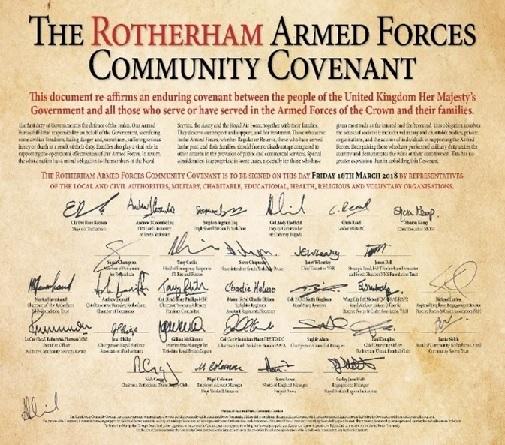 The Rotherham Armed Forces Community Covenant encourages support from the armed forces community living in Rotherham and recognises the sacrifices made by them. Over 25 signatory organisations (key businesses, charities, and organisations) reaffirmed their commitment to the Rotherham Armed Forces Community Covenant in March 2018. The signed covenant can be found on display at Rotherham Town Hall and in the Council's main office at Riverside House.
THE MINISTRY OF DEFENCE EMPLOYER RECOGNITION SCHEME
The Ministry of Defence Employer Recognition Scheme acknowledges employers who have provided exceptional support to the armed forces community and defense by going above and beyond their covenant pledges. The Council currently has silver accreditation.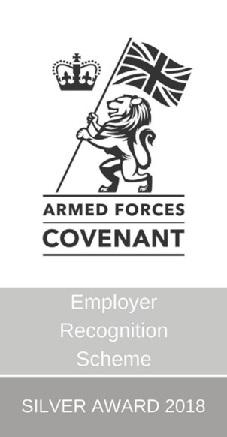 Armed Forces Covenant Duty
The Armed Forces Covenant is a legal obligation on certain public bodies to 'have due regard' to the principles of the Armed Forces Covenant and requires decisions about the development and delivery of certain services to be made with conscious consideration of the needs of the Armed Forces Community. The legal obligation affects organisations that are responsible for delivering statutory functions in healthcare, education and housing services and requires those delivering local services to pay due regard to the Covenant principles when exercising the functions in these areas.

Armed Forces Covernant Duty Statutory Guidance
Armed Forces Covernant Duty Toolkit
Contact the Council's Lead Officer for Armed Forces
Vicky Hartley, Member & Civic Support Manager.
Email: AFCSupport@rotherham.gov.uk
Telephone: 01709 255100