Homes and property
Praise for quick thinking Housing Officer
Rotherham Council Area Housing Officer, Melanie Applegate has been praised for averting a potential tragedy when visiting a tenant in Wath.
Publication date: 20 May 2016
---
New Adult Care and Housing Strategic Director sees Council senior management team complete
Rotherham Council has appointed its new Strategic Director of Adult Care and Housing, the final appointment to the authority's new permanent senior management team.
Publication date: 4 May 2016
---
Helping Rotherham blossom
Rotherham Council is launching its annual Garden Competition for tenants and leaseholders during National Gardening Week 2016 which runs to 17 April.
Publication date: 13 April 2016
---
Rotherham residents fined for eyesore properties
Rotherham Council used new powers to fine two residents after they ignored requests to tidy up their gardens.
Publication date: 29 March 2016
---
Carr Mews housing development officially opens its doors
A brand new Council Housing development at Barbers Avenue Rawmarsh was officially opened yesterday by the Mayor of Rotherham, Cllr Maggi Clark.
Publication date: 24 March 2016
---
First landlord prosecuted under Rotherham Council's selective licensing scheme
A Rotherham landlord has been ordered to pay more than £1,000 at Rotherham Magistrates' Court after pleading guilty to operating a rented house without a licence.
Publication date: 23 March 2016
---
Key Choices property shop is on the move
Rotherham Council's Key Choices Service, which provides advice to customers on all housing options as well as support to prevent customers becoming homeless, is moving to Riverside House on 18 March.
Publication date: 9 March 2016
---
Safety first for Flanderwell residents
Residents in Flanderwell were given advice and assistance to help keep themselves and their homes safe at an event this week.
Publication date: 28 January 2016
---
New Selective Licensing scheme targets rogue landlords
Tenants are starting to see improvements to their homes as Rotherham Council moves forward with its Selective Licensing scheme.
Publication date: 15 December 2015
---
First tenants move into newly built council homes
The first tenants have moved into four new Council homes built in Bramley.
Publication date: 6 November 2015
---
Garden Competition a blooming success!
This year's Rotherham Garden Competition has been hailed a blooming success with new categories attracting more entries.
Publication date: 24 September 2015
---
Earmarked sites listed in Rotherham's local plan
The sites earmarked for new homes, industrial and retail space in Rotherham will be put forward for council approval for consultation at the next Council meeting (16 September).
Publication date: 14 September 2015
---
Residents urged to be gas safe
Rotherham Council and Willmott Dixon will be hitting the streets to promote gas safety as part of Gas Safety Week (14 to 20 September).
Publication date: 10 September 2015
---
South Yorkshire and Humber Building Excellence Awards
Several new buildings across Rotherham, including houses and a school, have been acclaimed in a regional building excellence awards.
Publication date: 1 June 2015
---
Selective licensing scheme launched in Rotherham
A new licensing scheme, geared to driving up the standards of privately rented accommodation in Rotherham, is going ahead after a judge dismissed a legal challenge.
Publication date: 15 May 2015
---
Specialist homes for Rotherham families
Two new specialist homes are going to be built to help families with a disabled child.
Publication date: 25 March 2015
---
Licensing scheme for private rented sector
Landlords who own property in certain parts of Rotherham are to be the subject of a new licensing scheme in an effort to drive up the standards of rented accommodation.
Publication date: 18 December 2014
---
Changes to housing allocations policy
The Council has changed the way it allocates Council homes to make it easier for local people who need a house to get one.
Publication date: 25 November 2014
---
Council Tax collection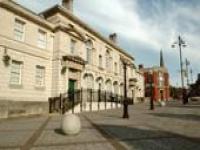 Rotherham is once again one of the top-performing authorities for its Council Tax collection rate despite the huge changes imposed by the Government.
Publication date: 1 August 2014
---
Inspector praises local housing plan
Rotherham's housing plan for the future has been given the green light by government inspectors - including the go-ahead to set a local housing target.
Publication date: 14 July 2014
---
New opening times for Rotherham waste sites
Rotherham recyclers are being reminded that from June each of the borough's four Household Waste Recycling Centres will be closed for one day each week.
Publication date: 28 April 2014
---
Residents warned over shed break-ins
Rotherham residents are being warned to be on their guard following a spate of break-ins to sheds and garages.
Publication date: 17 April 2014
---
Seven years of Potteries Court
Residents of a specialist housing scheme in Rotherham will celebrate its seventh birthday next week.
Publication date: 10 April 2014
---
Children show housing tenants the way
School children were on hand to offer a little guidance to council housing tenants at this year's Tenants' Spring Conference.
Publication date: 9 April 2014
---
Council Tax collection helps services
The Council collected a much-needed additional £6 million in Council Tax and non-domestic rates in the last financial year - a welcome boost in the battle to provide vital front-line services.
Publication date: 8 April 2014
---
Rogue landlords prosecuted
A married couple have been successfully prosecuted by the Council for failing to make repairs to a tenanted property they owned in Catcliffe.
Publication date: 18 March 2014
---
Save Time, Do it Online - the Council launches Your Account with a chance to win an iPad
The Council has taken a significant leap forward in the way key services are delivered by introducing an exciting new online service.
Publication date: 12 March 2014
---
Stay alerted
Get up to the minute information about the things that matter to you, straight to your email inbox by using our e-alerts.
Publication date: 4 March 2014
---
Sun shines on garden competition winners
It may be cold outside, but it's not too early to start thinking about making preparations for Rotherham's Council homes gardening competition.
Publication date: 3 December 2013