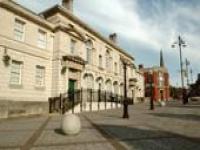 Consultations on proposed changes to the Council's Licensing Act and Gambling Act Statements of Licensing Policy, are open until Thursday 27 February 2020.
Residents and businesses are being invited to have their say on the issues Rotherham Council takes into account when it considers alcohol and gambling licensing applications for premises like pubs, restaurants, betting shops, off-licenses and clubs.
The Licensing Act Policy covers all licensed premises that are involved in the sale or supply of alcohol, providing regulated entertainment, or providing late night refreshment.
The policy focuses around four licensing objectives which including crime prevention; public safety; the prevention of public nuisance; and protecting children.
The draft policy includes a number of key changes, including:
The use of public health data, such as alcohol-related harm and obesity when determining licensing applications
A cumulative impact assessment to identify areas of the borough where granting further licences or variations to licences could impact on the Council's Licensing Objectives
A selection of new model conditions which may be volunteered or added to certain licences in specific circumstances.
As part of the Licensing Act consultation, the Council are also asking members of the public and the licensed trade to give their views on introducing a Cumulative Impact Zone in Wickersley. Due to the number of licensed restaurants and bars in the area, the Council are keen to hear views from local businesses and residents on whether introducing a Cumulative Impact Zone would have a positive impact on the area, such as reducing levels of anti-social behaviour and noise related to licensed premises.
Meanwhile the Gambling Act Policy focusses on various issues related to gambling, including preventing establishments from becoming sources of crime or being used to support crime.
The policy will also ensure that gambling is conducted in a fair and open way as well as outlining steps to protect children and other vulnerable people from being harmed or exploited by gambling.
Rotherham Council's Cabinet Member for Community Safety, Cllr Emma Hoddinott, said: "Developing a robust, comprehensive approach to licensing can have a significant impact on promoting public safety and public health. We encourage members of the public to submit their views on our online form or attend a drop-in session."
Drop-in sessions are open to everyone at:
Riverside House café, Main Street, Rotherham, S60 1AE – Monday 20 January, 9.30am-11.30am
Maltby Service Centre, Braithwell Road, Maltby, Rotherham, S66 8JE - Thursday 23 January, 11am-1pm
Wath Library, 21 Montgomery Road, Wath upon Dearne, Rotherham, S63 7RZ – Thursday 30 January, 4.30pm-6.30pm