How Rotherham is tackling Child Sexual Exploitation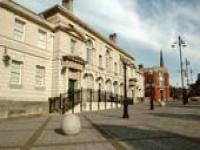 Rotherham Council has today published six investigation reports, commissioned following the findings of the Jay Report (2014) and the Casey Report (2015).
6 September 2017
---
Rotherham Council leaders have welcomed the sentencing of the 21st person to be convicted of historic child sexual exploitation crimes.
16 May 2017
---
A range of events including a women only comedy night are being held in Rotherham next week by a local charity to spread the message that any form of sexual abuse and violence is unacceptable.
3 February 2017
---
Six men have been sentenced to 81-and-a-half years in prison for their roles in the sexual exploitation of two girls in Rotherham nearly 20 years ago.
2 February 2017
---
Leader of the Council, Cllr Chris Read, and Strategic Director of Children and Young People's Services, Ian Thomas respond to today's guilty verdicts in the CSE case at Sheffield Crown Court.
25 January 2017
---
Council leaders in Rotherham have welcomed the tough jail sentences handed out to a gang of eight men who carried out horrific multiple crimes of child sexual exploitation
4 November 2016
Responding to child sexual exploitation in Rotherham
The way we deal with child sexual exploitation in Rotherham today is very different than in the past.
We are now operating with a much deeper understanding of this form of abuse. We are working more closely across agencies to keep children and young people as safe as we can, and to bring the perpetrators to justice.
No single agency can tackle child sexual exploitation alone and we are working across agencies, and with our communities. We are operating in new ways which put victims and survivors first, and ensure we listen and respond. We are clear there is much more to do, but we have made real change.
Our partners join us to talk about the new approach (filmed October 2016)