Wellgate, Broom Road and Broom Valley Road cycle routes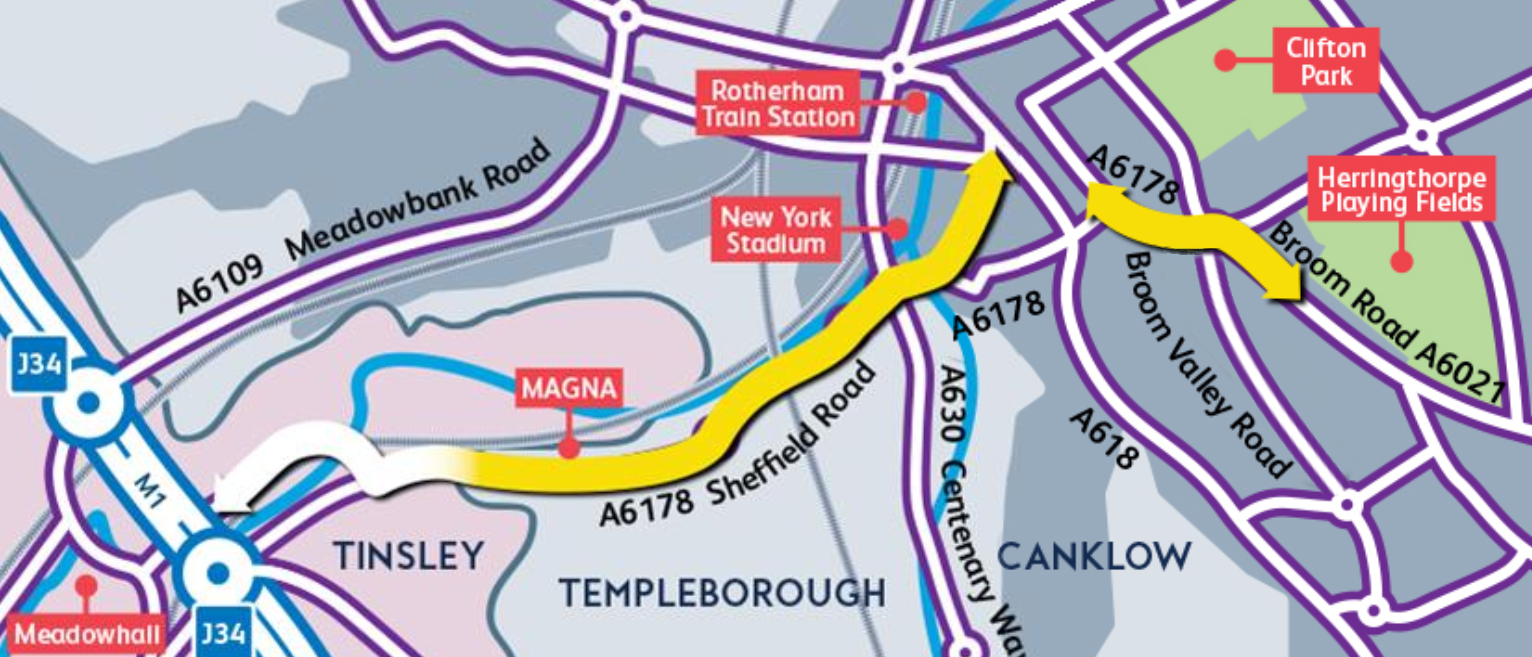 Rotherham Council is making improvements on Wellgate and Broom Road in 2023 so it is safer and easier for pedestrians and cyclists to use a key route connecting the south-east of town and central Rotherham.

The £3.6 million Broom Road Cycleways scheme introduces 1.4km of dedicated cycle tracks on Wellgate between Hollowgate and Boswell Street, along with a new pedestrian crossing and associated connecting works.

Broom Road Cycleways is another result of Rotherham Council's ambitious Cycling Strategy, making additions and improvements to the borough's cycling infrastructure.

The funding has been secured by the Council through the South Yorkshire Mayoral Combined Authority Active Travel Fund (ATF), Gainshare and the City Region Sustainable Transport Settlement (CRSTS).

Work started in mid-March. There will be traffic management closures on Broom Road for approximately 25 weeks, Wellgate for approximately 25 weeks and Clifton Roundabout for approximately 14 weeks. Signage will be erected in advance of any closures to ensure ample notice is given.
BUS SERVICES:
Services 3 and 19 are affected by the inbound closure of Wellgate. They are using the following diversions:
Service 3 towards Rotherham to operate as normal to Broom Valley Road at the junction with Wellgate then divert right on to Clifton Lane, Wharncliffe Street and Drummond Street before terminating at the Interchange.
Service 19 towards Rotherham to operate as normal to Broom Road at the roundabout with Wellgate then divert via Clifton Lane, Wharncliffe Street and Drummond Street before terminating at the Interchange.
Outbound journeys on both services 3 and 19 will be unaffected and should operate as normal.
More information is available at Travel South Yorkshire.
DETAILS OF CLOSURES:
There will be a one-way closure of Wellgate from the roundabout with Broom Road/Clifton Lane preventing traffic from travelling towards the town centre. A diversion route will be in place for traffic to access the town centre (via Clifton Lane, Wharncliffe Street/Drummond Street to the A630 Centenary Way, A6178 Sheffield Road/Old Sheffield Road/Alma Road then Moorgate Road and Mansfield Road back into the town centre).

During the second phase of the project, Badsley Moor Lane will also be closed at Clifton roundabout with a diversion route in place (via Middle Lane South, A6021 Wickersley Road/Broom Road). This is to enable the operation of three-way lights at the roundabout.
2021 Consultation findings
Conducted online 11 October to 7 November 2021
105 responses
50% supported the Broom Road proposals, 40% indicated opposition
34% felt they would cycle more as a consequence of proposals
Younger people more likely to support proposals than elderly, people with disabilities most likely to object
Two responses received from Wellgate businesses. Both expressed neutral view of proposals
Strongest opposition from residents fronting route (10 of 13 / 77%) and motorists using route (10 of 14 / 70%)
34 of respondents objecting added comments. Two key themes: objections to providing for cyclists in principle; concerns relating to traffic congestion
Correspondence received from two individuals. One not supportive due to presumed congestion and air quality impact. A second raised concerns in respect of disability access