Rotherham to Tinsley walking and cycling route (Sheffield road cycleways)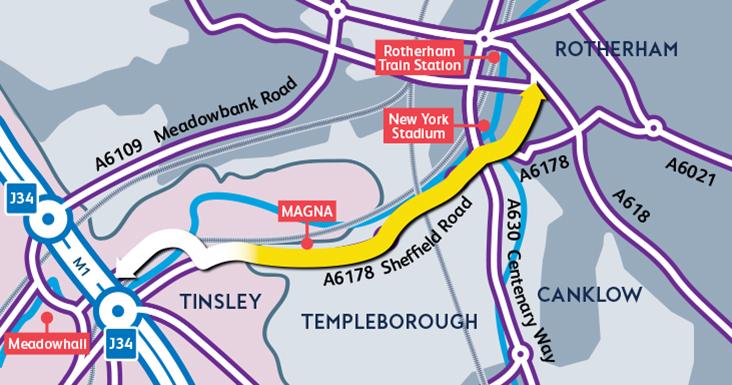 Improvements on Westgate and the A6178 Sheffield Road will make walking and cycling between Tinsley and the town centre – and its public transport links – easier and more pleasant.
They will create an active travel corridor between the town centre and the many employers at Ickles and Templeborough.
The Sheffield Road Cycleways scheme aims to support affordable and environmentally friendly travel with new segregated cycle tracks extending the existing route from the Sheffield City boundary near to the Magna Science Adventure Centre on the A6178 through to Rotherham Town Centre. The cycle tracks will link through to new cycle lanes and pedestrian improvements on Sheffield Road and Westgate in the town centre.
The Rotherham to Tinsley scheme is to be delivered by Rotherham Council with money secured from the Department for Transport's Transforming Cities Fund by the South Yorkshire Mayoral Combined Authority.
Phase 1 added new cycle tracks between the borough boundary and Bessemer Way.
Phase 2 will add new cycle tracks between Bessemer Way and Centenary Way.
Phase 3 will improve conditions for walking and cycling between Westgate and the A6178 Sheffield Road.
Following consultation in early 2022, and subsequent further engagement with local businesses in the Westgate area, original proposals for this stretch of the route have undergone a radical transformation. Plans to close the junction of Centenary Way onto Main Street to private vehicles have been dropped, as has the proposed "no left turn" restriction from Westgate onto Main Street, and other changes to junctions with Canklow Road and Old Sheffield Road, and restrictions to vehicles on Coke Hill and Wilfred Street.

These changes, agreed with Active Travel England, follow new data showing the need for traffic reduction was not as originally thought, and address the main concerns of local traders.

The revised plans are also expected to increase the number of parking bays along Sheffield Road and Westgate above the current level of provision.
A new 20 mph limit will be implemented along Westgate to help to make the stretch between new housing developments and the town centre more attractive to pedestrians and cyclists.

Approximately 400 metres of Westgate leading to the junction with Main Street will incorporate 2 metre-wide advisory cycle lanes on either side with a single carriageway down the middle. This will provide space for motor vehicles to pass using the full width of the road when required whilst indicating to drivers the distance with which they should pass cyclists. The layout follows similar schemes already successfully implemented across the country, in Hull, Sheffield, East Yorkshire, Norwich and London.
Work on phases 2 and 3 starts 30 May 2023 for 12 months, making traffic management necessary.
Details of Closures
For the first five months, work will take place between Old Sheffield Road and Canklow Road, with traffic running eastbound only on a one-way closure.
As works progress past Canklow Road up to Main Street, a one-way closure on Westgate will allow traffic westbound only for seven months. Signed diversions will be in place.
Works on Sheffield Road (Between Bessemer Roundabout and Ickles Roundabout) will be managed with lane closures and traffic lights only and will run for 12 months.